Training Trends Report 2022
Explore current challenges and future opportunities to help you grow quality and scale up.
Get the insider knowledge you need to deliver successful employee training in 2022
A rise in remote working means traditional training has had to drastically change and adapt over the last year. But as the corporate world starts to open up again, are you slipping back into old habits?
Or should you be focusing your training efforts on new approaches in order to inspire your learners?
We surveyed over 1000 L&D professionals and learners, as well as industry experts, to uncover the key training trends for 2022.
Find out all this and more by downloading the Training Trends Report.
What to expect from the Training Trends Report
Get insights into...
What's currently working in corporate training
What your learners are crying out for in online training
What training experts think you should focus your efforts on
Download your copy of the Training Trends Report 2022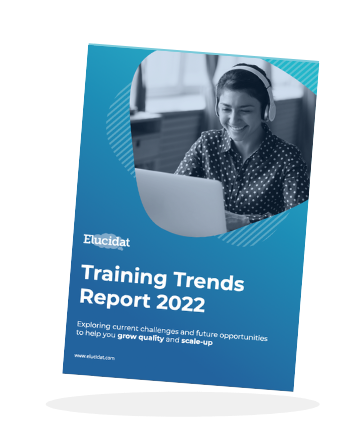 Unlock true quality content, at scale
Elucidat's next-generation content authoring approach helps L&D teams unlock a faster, smarter and more people-centered elearning production process.
Book your personalized demo to get started with a free trial.